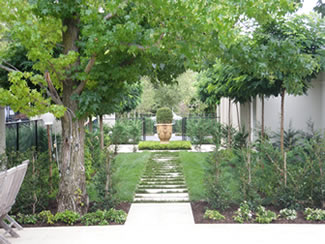 The ArcScape team offers landscaping services throughout the Riverina including Gundagai, Tumut, Cootamundra, Wagga Wagga, Adelong and Batlow.
Born and bred on a farm outside Adelong NSW, owner Jeremy Pearce holds a Bachelor of Landscape Architecture from the University of Canberra.
"While my qualifications have given me a great understanding of the fundamentals of landscape design, I am an outdoors person and being off the land, I am much more at home working in a garden than sitting behind a desk designing one," says Jeremy.
Now living in Gundagai with his wife and two small children, what Jeremy enjoys most is establishing a garden that will look good in any season.
"After working for a few years in Sydney, where the climate generally stays quite mild, coming back to this area threw a number of challenges at me in terms of developing and maintaining gardens that would withstand our vast changes in weather."

"There are so many things you can do with your garden to help it look good all year round – from planting climate friendly plants and lawn areas to establishing areas of paving, decking or solid walls to give it colour and contrast.

"Obviously in our climate, water conservation is a big consideration so I try, where ever possible, to factor in water saving ideas – whether it be an automatic irrigation system or planting drought resistant plants and turf."